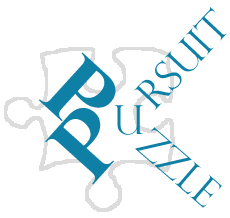 Was held on Saturday September 10th, 2011 @

Be sure to keep following us on Twitter as well have announcements for our next event in a few months
The Puzzle Pursuit charity event benefits
In your work for the gossip rag "The
Daily
Weekly Procrastinator" you've gotten tips on celebrity breakups, alien babies, and even the ghost of Ryan Seacrest (wait, isn't he still alive?) but inevitably you would jot down notes and drop them into your
Look into tomorrow
file where they would get forgotten. But there was something different about this latest tip. Elvis, dragons, and aliens! The tri-fecta of stories all rolled into one. Grabbing your hat and notebook you head out the door, unaware of the mess you're about to get yourself into.
What is Puzzle Pursuit?
Puzzle Pursuit FAQ
New This Year: 2 divisions - BASIC & CHALLENGE
Read about previous events:
What is Puzzle Pursuit?
A hole punch, two paper-clips, a piece of foil, and a gallon of water. Useless objects? Not if you're participating in Outdoor Outreach's third annual Puzzle Pursuit. Last year players chased the devious Fugitive, but this year's race will lead you through
LEGOLAND

®

California
, searching in lost temples, battling dragons, and puzzling your way through an amazing day of unforgettable fun and surprises.
Raising money to directly benefit the hundreds of at-risk and underprivileged youth that Outdoor Outreach serves has never been so fun and so intriguing. Part Amazing Race and part Sherlock Holmes, Puzzle Pursuit will encourage out-of-the-box thinking as your team (reporters for the
Daily Procrastinator
) follows leads and tries to uncover the mysterious story sure to make headlines. Whether you're a first time puzzler or a seasoned solver we know you'll enjoy this unique event.
There are a limited number of team slots available for this event, and because of the unique and exciting location it may sell out. Don't miss out by
signing your team up
now. And be sure and

for important updates that you and your team will need to know.
® The LEGOLAND trademark is property of the LEGO Group and is used here with special permission.
LEGO,the LEGO logo, the Brick and Knob configurations, and LEGOLAND are trademarks of the LEGO Group. ©2010 The LEGO Group. LEGOLAND IS PART OF THE MERLIN ENTERTAINMENTS GROUP.